A presentation by Sarah Gathercole
The January meeting featured Sarah Gathercole, who demonstrated using slides, how fruit and vegetables were often portrayed in paintings throughout the ages. Sarah drew the meetings attention to the various styles used. These paintings captured the culture of society of the day and were reflective of the time in which they were placed.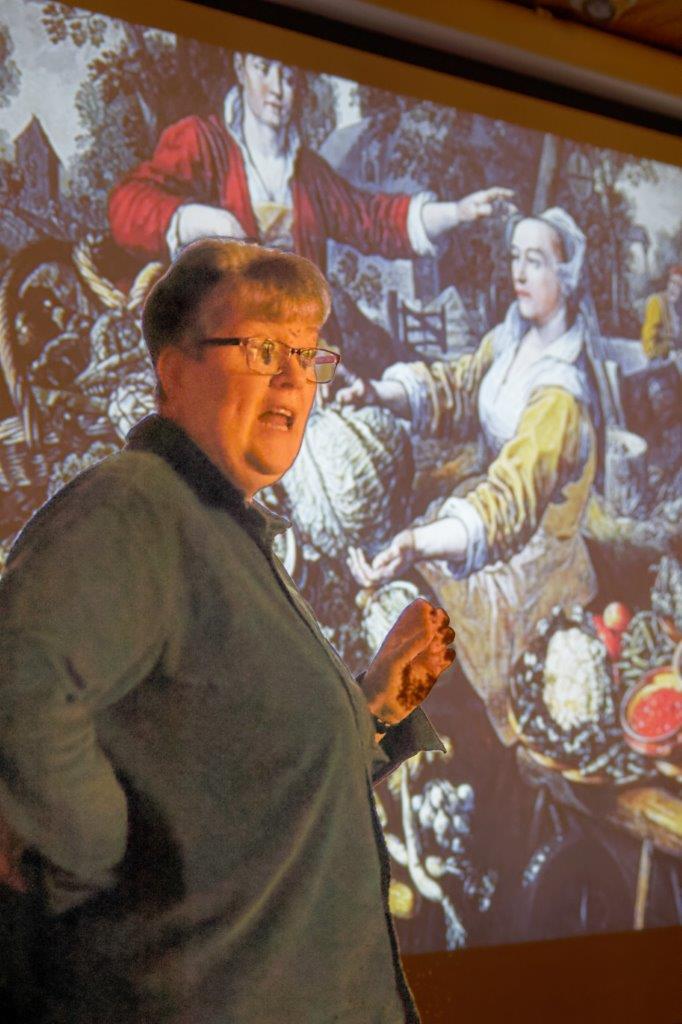 Sarah Gathercole
Notes on Symbolism in Art for Fruit and Vegetables through out the ages, with links to the artists.
| | |
| --- | --- |
| Imagery | Symbolism |
| Grapes | Grapes represent fertility and salvation in their symbolic link to the blood of Christ, but also are symbolic of the dangers of debauchery. |
| Lemons | Linked in Christian tradition to fidelity and, therefore, to the figure of the Virgin. Lemon was often an imported fruit, thus suggesting wealth and luxury. |
| Apple | A symbol of salvation and truth, as well as fecundity. |
| Pomegranate | Pomegranates feature heavily in Judaism and are used in religious memorials to signify heavenly sweetness, or fertility. The fruit, broken or bursting open, is a symbol of the fullness of Jesus' suffering and resurrection. |
| Fig | Strong biblical associations, as the fig tree is the third tree to be mentioned in the Bible. The fig has strong connotations with modesty and sexuality, as Adam and Eve covered themselves with fig leaves. |
FRUIT AND VEGETABLES IN ART 17th Jan 2019
VILLA LIVIA PRIMA PORTA 1 CENTURY AD
JAN VAN EYCK 1390 – 1441 GHENT ALTARPIECE 1432 –GHENT
ALBRECHT DURER 1471-1528 -ADAM AND EVE PRADO
www.museodelprado.es
RUBENS PETER PAUL 1577 -1640
FRANZ VON STUCK 1863-1928
CARLO CRIVELLI 1430 -1495
www.nationalgallery.org.uk
HIERONYMUS BOSCH 1450- 1516- GARDEN OF EARTHLY DELIGHTS 1500
SANDRO BOTTICELLI 1445 -1510
www.uffizi.it
LUCAS CRANACH 1472 – 1553
JOACHIM BEUCKELAER 1533-1573
CARRAVAGGIO 1571-1610
FRANS SNYDERS 1579 – 1657
www.rijksmuseum.nl
HARMEN STEENWYCK 1612- 1656
GIOVANNI GARZONI 1600 – 1670 FEMALE ARTIST
JUAN SANCHEZ COTAN 1560 – 1627
FRANCISCO DE ZURBARAN 1598-1664
GIUSEPPE ARCIMBOLDO 1527- 1593
www.khm.at/en
DANTE ROSSETTI 1828-1882
www.tate.org.uk
PAUL CEZANNE 1839-1906
www.musee-orsay.fr
CLAUDE MONET 1840 – 1926
EDWARD MANET 1832-1883
PAUL GAUGUIN 1848-1903
VINCENT VAN GOGH 1853-1890
www.vangoghmuseum.nl
FRIEDA KAHLO 1907- 1954
EVELYN DUNBAR 1906 – 1960
RENE MAGRITTE 1898 -1967
www.moma.org
SARAH LUCAS BORN 1962
CARL WARNER BORN 1963
www.carlwarner.com
Sarah Gathercole