Welcome to our website.
We hope that you will find this new and redesigned website a useful resource for both the Club's activities and for other  related gardening information.
The details of all of the  Club's meetings and other events are clearly shown with much more  information available for those who require it. Click here for the current programme.
The Club's last meeting, was held on Thursday June 15th at 7.30pm, in the Trefonen Village Hall and was a talk given by  Chris Whitelock, a Horticutural Consultant and Trainer entitled "Understanding soil, growing media and
fertilisers". For more information on the meeting click here. Chris gave us an illuminating and fact filled talk which included his mantra: "love your clay, dont abuse it".
This summer, the club has arranged two trips to gardens over the summer months, On Thursday July 20th there is a coach trip to Ashwood Gardens and Nursery (more information). This trip is in place of the normal July meeting. A second, full day, trip to Plas Cadnant on Angelsey  (more information) is arranged for Sunday August 20th. There only a very few places left, so if you are interested in going on either trip, call Sally Barrett on 01691 650944 as soon as possible.
On Friday 30th June and Saturday 1st July there is a event on the Trefonen Playing Field and at the village hall which is a Victorian themed fete and exhibition (more information). The club will having a Herb Stall. To see the flyer for our Herb Stall click here. Come along to the event and support the club as well as the village and its Heritage Society.
The next formal club meeting will be held on 21st September at 7.30pm, in the Trefonen Village Hall and will be a talk by entitled "Streptocarpus".  The talk will be given by Peter Evans, Head of Land based Studies Derwen College  For more information on Chris please click here.
Many of the Club's past social  activities are also chronicled here to inform both new and present members  of variety of things that we get up to!
Other upcoming activities:
The NATIONAL GARDEN SCHEME has a number of gardens open for Charity for private groups to visit during 2017. For more details click here.
Queen Anne Cottage, Chirk. The garden will be open for Charity on Sunday 25th June 2017 from 1pm to 5pm. Entry: Adults £3.50, children free. For more details click here.
Tremynfa, Llanymynech. The garden will be open on Sunday 17th June from 1pm until 5pm. Admission £4.00, children free. Tremynfa is a south facing 1 acre garden developed over 10yrs. It is an old railway cottage set in herbaceous and raised borders, patio with many pots of colourful and unusual plants. The garden slopes towards a productive fruit and vegetable area, ponds, spinney, wild areas and peat bog.There is a patio and seats to enjoy extensive views including to Llanymynech Rocks. Pet ducks on site, Montgomery canal close by. there will be home-made teas available. Find out more from the NGS website by clicking here.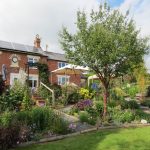 Bryngwyn Summer Fayre will be held on Saturday 22nd & Sunday 23rd July 2017 from 10.30am to 6pm to find out more click here.
Weston Rhyn & District Gardening Club's meeting on the 11th October will feature Christine Walkden, horticulturist, author and resident gardener on the BBC 'One Show'. speaking on Making the most of your Garden. The meeting will be held at the Marches School, Oswestry, tickets £10 each. For more information please click here.
Explore the website for more information about the club and its activities.